It is sometimes difficult to believe that globally there are over over 11,000 species of grass that may form extensive swards of homogeneous, green biomass. Even within the UK there are a bewildering ~160 species belonging to the Poaceae that pretty much all look the same. Or do they? Whilst preparing to harvest biomass on the RainDrop drought experiment at Wytham, Oxford (part of the DroughtNet collaboration) I have been thinking about how to identify grasses. A fundamental requirement of many ecological field experiments is knowing exactly what species are present so that changes in abundance and diversity due to treatments can be quantified and explained. However, at times when surveys need to be undertaken it is unlikely that all species will be in flower, a fundamental requirement of many botanical keys. So here are some questions I have found useful when attempting to identify grass species from vegetative features and some notes on some common UK grass species that I thought I would share.
SOME USEFUL FEATURES TO LOOK OUT FOR:
What is the leaf tip shape?
Are the leaves or stems hairy?
What is the size, shape and hairiness of the ligule and auricles?
Is the youngest leaf blade flat or rolled?
SOME COMMON UK SPECIES:
Holcus lanatus (Yorkshire Fog)
Has a distinctive distinctive purple striped sheath at the base of tillers often referred to as 'purple striped pyjamas'. Hairs are present on both the nodes and stem.
Agrostis capillaris (Crommon Bent Grass)
Leaves are never hairy and are finely pointed. The ligule is blunt, wide and tall. Plants spread by short rhizomes.
Agrostis stolonifera  (Creeping Bent grass)
The leaves are hairless and may feel rough. Blades are finely pointed with 5-6 minor ribs each side of midrib, rolled when young then flat. The ligule is long and feathered at the tip. Culms are often purplish at base or at the nodes and spreading by stolons.
Above left: Feathered, acute ligule and leaf ribs of Agrostis stolonifera Right: Pointed leaf tips, purplish culms and blunt ligule of Agrostis capillaris.
Festuca ovina (Sheeps Fescue)
A densely tufted perennial with very stiff, slender leaves (0.3-0.6 mm wide). Leaves are green or greyish and hairless with whitish basal sheaths. Rounded auricles are present but not very prominent, very short blunt ligule.
Above: A narrow leaved clump of Festuca ovina.
Poa sp. in general
Characteristic vegetative features of nearly all Poa species are the tramlines (two central grooves) on the leaves and the boat (with a bit of imagination) shaped tip.
Poa trivialis (Rough Meadow Grass)
Plants have creeping stolons and are sometimes purplish in colour.  The leaf is shiny light green below, hairless with the midrib raised below. The ligule is longer and more pointed than other poa species (4-10mm).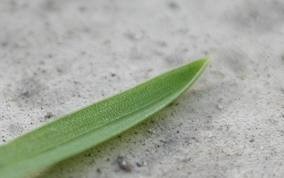 Left: Boat shaped tip of most Poa sp. Middle: An example of tramlines of Poa sp. Right: The pointed ligule of Poa trivialis.
Dactylis glomerata (Cocks Foot)
Has a large very flattened base to the stem which makes it very easily destinguishable from other grasses
other useful resources for tips on plant ID:
"The Vegetative Key to the British Flora" John Poland and Eric Clement 2009 is a key designed for identification using only vegetative rather than floral features. Very useful for surveying in winter, spring or autumn…………so most of the year in fact!
drmgoeswild.com Dr M taught me plant ID and is a wealth of knowledge and enthusiasm for the UK flora (and also where I borrowed my Dactylis photo from) Thanks Dr M!